Dear Great Pumpkin,
I am looking forward to your arrival on Halloween Night. I hope you will bring me lots of presents. You must get discouraged because more people believe in Santa Claus than in you. Well, let's face it; Santa Claus has had more publicity, but being #2, perhaps you try harder. A lot of people say you're a fake, but I believe in you. P.S: If you are a fake, please don't tell me. I don't wanna know. -Linus Van Pelt
We are watching It's the Great Pumpkin, Charlie Brown and smelling our pumpkin spice candles and eating...(soy) cheeseburgers...well cheese is orange, so it sort of fits the theme(?) And our itty bitty is celebrating her first Halloween. She's all ready!We went to a pumpkin patch a couple of weekends ago and she loved it! Proof....
And speaking of fall, well,I finally got around to making a blog button and its fall themed seeing as its oh so beautiful in San Diego. I'm thinking of making a new one for every season. Anyway, if you would be obliged to take it and put it up on your blog or website feel free to do so.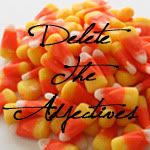 Read More